Surgical correction for a cherry eye (Prolapsed gland of the nictitans membrane)
Surgical correction for a cherry eye (Prolapsed gland of the nictitans membrane)
The nictitans membrane is also known as the third eyelid, and it covers the cornea in a thin film. There is a tear gland inside it, and it has ligaments that keep it in place and limit movement. If these ligaments are weak due to genetic factors, the gland will eventually prolapse. This condition is commonly known as cherry eye, and affects smaller breeds, and dogs that are less than 12 months old. Breeds that are most commonly affected by this condition include: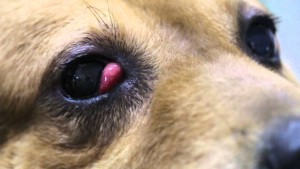 ● Basset Hounds
● Beagles
● Bulldogs
● Cocker Spaniels
● Lhasa Apso
● Poodles
● Shih-Tzu
Although not an immediate health risk, the prolapsed gland can lead to low grade corneal and conjunctivial irritation which can result in ocular discharge. Worse case scenarios can progress to corneal ulcers.
Removal of the gland is not advised, as it has an important role in tear production, and if left without it the dog can have problems with dry eye later on. In such cases the dog will have to be treated with locally applied medication for the rest of his or her life. This is why we offer surgical correction, which can be achieved in a few different ways including:
● Creating a new pocket for the gland, placing it near its original position and then closing it with stitches
● Tacking the gland to the orbital rim
● Fixation of the prolapsed gland to the cartilage of the third eyelid
Our preferred surgery is performing a modified Morgan's Pocket. Tucking in the gland into a new pocket has a good success rate, but further surgery may be required to completely resolve the issue. The procedure doesn't carry any serious risk, but it can take about two weeks after the surgery for the inflammation to subside.